Get Dicipline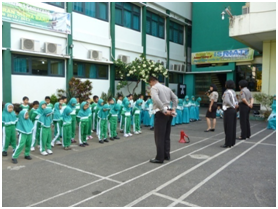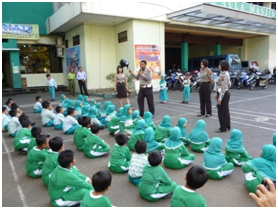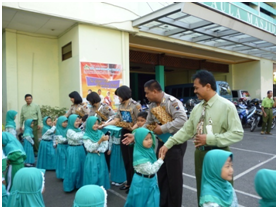 One of the programs in the ICP is Parenting Teacher. Parenting teacher learning is a day program with the parents as teachers. Parents teach students specific topics, according to their profession.
The purpose of this activity is to improve cooperation between teachers and parents. They also provide education to children directly through the expert that their parents according to their expertise.
Not long ago, ICP invites parents who work as police officers. They are mothers who work as police woman. On that occasion will be invited are Mrs. Yuli, Mrs. Widi, and Mrs. Ida. They are Tika's maother, Rio's mother and Naila's mother.
Later that day they play as teachers Isriati. But they remained in police uniforms.
Theme of learning undertaken, is discipline. In this learning process, in containers in sports, marching, singing, simulation, and frequently asked questions. While the place of learning in the school grounds.
In the learning process, the parents, teach marching order, order traffic, traffic ethics and obedient attitude toward regulation.
Character education is expected, the students are being disciplined, orderly, tolerance, and obey the rules. In addition, the students are brave and resilient physical, spiritual and bodily health.
By learning "Parenting Teacher", the students are very excited. And this kind of learning, it is very effective in instilling a positive attitude to the students. Because in addition to different learning atmosphere, teachers also come from the experts.
After the learning process, the "parent teacher" was also given an award by their sons. Their own children who presented the award. It is an education to inculcate "respect" parents, and experts. Although the award of a plaque, but the plaque is, as a symbol of cooperation between teachers and parents in educating children.